My womb or hers, I'm still your mother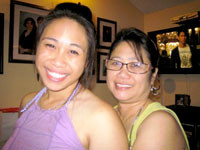 2008. Maria and daughter before the former's stroke.
A tribute to an adoptive parent
At 35 years old, Maria Paz already had a happy family of her own with a husband by her side and a little girl turning six. But, she wanted another child. Unfortunately, her husband Julius was diagnosed with leukemia, decreasing the couple's chance to have another child.
This led them to go back to the Philippines for a vacation and here she discovered she would love someone else's daughter.
Maria saw her when she was only two years old. She knew the history of the toddler — the father left the mother at childbirth and soon after the mother became ill, incapable to raise a two-year-old girl who still sucked on her thumb and wore diapers.
Adoption never occurred to the couple, but Maria wanted another daughter badly so when the little girl turned four years old, Maria and Julius legally adopted her.
Curiosity
For most cases, families that adopt a child do not find difficulty in raising the child as their own. However, oftentimes adopted children ask why their birth mother did not want them. Those are normal questions for that of an adopted child because they go through certain phases: rejection/abandonment, self-discovery, grief and counseling.
For 13, Maria and Julius raised both their daughters under one roof. Of course there was plenty of quarreling among siblings and even forms of rebellion. Both daughters were sent to private schools but when JM, Maria's biological daughter left for college, Maria was accompanied by her adopted daughter all the time – something Maria was not used to.
Despite raising her adopted daughter for 13 years, Maria was told one day that her adopted daughter wanted to contact her biological mother. At first, Maria was heartbroken and felt disrespected and under-appreciated but those were not her daughter's motives. Her adopted daughter just wanted to unravel her true identity. Soon after the confrontation, four plane tickets were booked back to their hometown of Iloilo City.
Mothers like Maria cannot avoid the inevitable curiosity of their children. Mothers, the provider, do what they feel is best and right for their children's wishes — they grant it suitable for their children.
Two mothers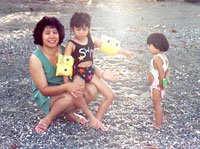 1994. Maria with JM on her lap and her soon to be adopted daughter.
Maria introduced her adopted daughter to her birth mother, Nenette. Blending the birth mother into the family at first was awkward for Maria, but it was what her daughter wanted. Slowly Maria had to pass on some motherly roles to the Nennette. Not all, just some – because until now, Nenette is still incapable of providing for her birth child. Maria took on the stepmom role, but that did not mean surrendering the Mother title completely.
Sixteen at the time, Maria's stepdaughter had to make a decision between staying with her birth mother and taking the airplane ride back. Maria's stepdaughter had decided that she would finish high school and come back to the Philippines to be with her birth mother while going to college.
Maria did not like the idea of her once complete family to be far away from each other but it was a decision she respected as long as negotiations were made among the two mothers and their daughter.
Now twenty-one, Maria's stepdaughter lives in Iloilo City but not with her birth mother though. As part of the agreement, Maria would be the mother to support her financially and emotionally as much as possible. While Nenette would be the mother to help her daughter learn the history of her identity.
Some children, if not most, are blessed with a mother; while others are blessed with two mothers.
Still a mother
Call the woman adopted mother, surrogate mother or stepmother, but ignore the forefront title and nonetheless you will still be calling her your mother.
A mother does not have to take the responsibility of raising a child not her own, but she did willingly. Not because it is not an obligation, but because she wanted to, because she wanted to care for you when no one else would – because in her eyes, she already saw you as her own.
Maria, currently 56 and undergoing rehabilitation from a stroke last November 2009 does not regret adopting a child because stepmother or not, "You changed my life and I loved you like you were my own, and you still are my own Hija," said MY mother.