PURR
Queen Cassandra crowned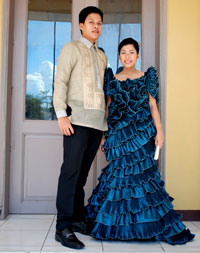 Queen Cassandra with King Consort Altair.
The Municipality of Leganes has a new queen in relation to its annual fiesta. She's no less than Cassandra Alyssa Tolentino Geremia, a picture of charm. She is the daughter of Antonio and Elizabeth Geremia, who along with her brothers Fritz and Rigil Kent, were proud to present her to the Leganesnons during her coronation night at the Leganes Pavilion.
She looked splendid in her fabulous gown as she walked beside her king consort Altair Ketch Tolentino Geremia. Altair is the youngest son of Captain Antonio Geremia and Elizabeth Geremia.
It was a special coronation night because Miss Universe 1960 Ms. Gloria Diaz herself crowned Queen Cassandra.
Cassandra is a fresh high school graduate from St. Scholastica, Manila while Altair is a junior college student of De La Salle's College of St. Benilde.