SMART holds summer storytelling for GK Sooc kids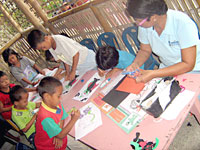 A productive time for children this summer.
It's a fun-filled and educational summer for the children of the PLDT-SMART Amazing Gawad Kalinga Village in Sooc, Arevalo, Iloilo as Smart Communications, Inc. (SMART) employee-volunteers is holding its summer storytelling sessions.
Now on its third year, SMART conducts summer storytelling sessions to the children in the community together with volunteers from the GK Sooc Sibol school and the GK Sooc youth. SMART is also partnering with iServe Foundation, the Iloilo Press Corps, RockEd Philippines, and the Department of Environment and Natural Resources Region 6– Environmental Management Bureau for the summer storytelling.
"The storytelling sessions help develop a reading habit among the children. The children also learn and appreciate the local culture since the stories read to them are local folklore," said SMART Public Affairs VisMin senior manager Atty. Maria Jane Paredes.
Aside from the storytelling, arts and crafts activities are also conducted during some of the sessions. The GK Sooc Terracotta Youth Artists Group introduces terracotta art to the children. The youth artists group was initiated following the success of the Banglos sculptors livelihood project in Smart Amazing GK Village in Gen. Nakar, Quezon. Smart initiated the training of children in terracotta art in the hope of tapping their artistic talent and creating a new source of livelihood.
The summer storytelling program will run until May.
The PLDT-SMART Amazing GK Village in the Arevalo District of Iloilo City is the sixth GK Village adopted by telecoms leader Philippine Long Distance Telephone Co. (PLDT) and wireless subsidiary SMART. SMART's initiatives to provide homes and livelihood via GK are part of its community-building initiatives under its corporate social responsibility program Kabalikat.