Miss Saad 2010 in Leganes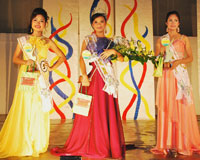 THE WINNERS. 2nd runner up Glaizon Lyle Caldeo, Miss Saad Precious Jade Fernandez and 1st runner up- Sarah Jane Surmion.
The municipality of Leganes held the search for Miss Saad Festival recently. The pageant was held at the Leganes Gymasium. It was spearheaded by the Saad Festival organizers and the Municipal Government of Leganes.
This beauty pageant is one of the highlights of the annual Saad Festival of the Municipality of Leganes.