A mother's special faith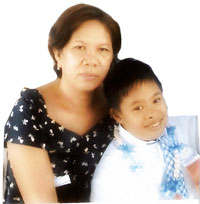 Chingbee with Bien-bien.
Special care is needed by special people. They need to be understood and to be loved the most.
For a 48-year-old mother like Chingbee Tupan, having a special child is a test of faith on God for 13 years now.
She gave birth to Vince Arian Tupan or "Bien-bien."
"Everything seemed okay when I gave birth to him but eight months later, I noticed that his bones were still soft."
By age one, Bien-bien was diagnosed with Down Syndrome. It seems that she was carrying the world on her shoulders when her suspicions were confirmed. She feared that people would criticize her child.
"But, I accepted the fact that my child has Down Syndrome. He was given to me that way. I just prayed to God to make me accept this," Chingbee said. She believes that she coulr surpass this.
An ideal parent does everything for his or her child. Chingbee brings Bien-bien to the mall in order to expose him to other people.
On one occasion, when Bien-bien was already five years old, she saw a child looked at Bien-bien in fear. She approached the child and said, "You are lucky that you are not like my child, that you are normal." Right there and then, she knew that whatever it takes, she must defend her child from anyone who treats him negatively.
Bien-bien has not caused any problem to his mother and his relatives. They treat him as a normal kid and he was taught to do things for himself, like taking a bath, eating and arranging his own clothes.
Bien-bien also attends school. He has been in the Emmanuel Special Center for one year (2007-2008) where he is recognized as the Most Improved and Best Dancer. For two years he was enrolled as a kindergarten pupil where he was the Well Groomed, Most Improved and Most Industrious. He makes everybody proud of him.
Doctors say most cases with Down syndrome only had a lifespan of 30 to 40 years. "I don't know if I could accept it if he would be gone. There were times in my life that I would just cry to the possibility that he will be taken from me. But, there is some point in my life that I would rather prefer him to go to God's grace than me leaving him. I want to take care of him until his last breath."
Everything has its own reason; God gives us a problem but surely with solutions on it. For a mother like Chingbee it is not easy to do things normally, but because of acceptance, patience and love, she has become a great mother to her special child.
"I will never leave him, I will always be on his side whatever it takes," she ended.