Infection Control Week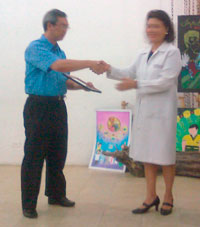 Dr. Ellamae Sorongon Divinagracia handing the certificate to Dr. Jodor Lim, PHICS Council of Advisers
The prevention and control of nosocomial or hospital- acquired infections were at the frontline during the Infection Control Week last April 11-16, 2010. An interhospital poster-making contest depicted the theme: "The Best Practices in Infection Control" and a scientific symposium capped the week-long activities.
The Philippine Hospital Infection Control Society, Inc.(PHICS)–Western Visayas Chapter, with its president Dr. Ellamae Sorongon–Divinagracia, spearheaded the celebration in the various hospitals in the city. The hospitals had their own poster-making contests and the first prize winners later competed with each other. The activity was co-sponsored with the St. Paul's Hospital, Professional Updates Committee in line with its Centennial Celebration.
Dr. Jodor Lim, past president of the PHICS, Inc. (National), gave the lecture on "Infection Control Practices: The Best Nga Ba Talaga?, last April 16 at the St. Paul's Hospital. He emphasized on the self-assessment and review of the Infection Control Programs in the hospitals and improvement on the areas which have been overlooked or under-practiced.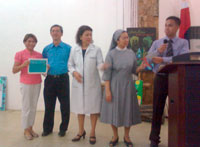 An awarding of the certificates to one of the representatives during the program
Healthcare –related infections which are not present at the time of admission of the patient occur if there is a breach of infection control practices. Handwashing is one procedure which can avert nosocomial ailments. Other issues are routine patient care, isolation of the patient, use of protective gear such gloves, masks and gowns in appropriate situations, sterilization and disinfection, environmental care by implementing effective housekeeping practices, efficient waste management, infection surveillance and antibiotic stewardship.
The winners of the poster-making contest were: First place- West Visayas State University Medical Center, Second place– St. Paul's Hospital of Iloilo, and Third place- Amosup-Seaman's Hospital. Other hospitals who actively participated in the events were the Iloilo Doctors' Hospital, Iloilo Mission Hospital and the Western Visayas Medical Center.
Infection Control Week is annually celebrated to encourage all healthcare professionals to help diminish the incidence of hospital-acquired infections.