Not all votes can be bought.
This is the message that the clergy of Our Lady of Peace and Good Voyage Parish in Iloilo City's La Paz district want to impart in launching their "Peace Covenant" campaign.
It seems members of the board of election inspectors (BEIs) would be on for an easy task, as they will carry out the absentee voting for members of the police force in Western Visayas.
This, as it was gathered that only four policemen under Police Regional Office (PRO) VI will be participating in the absentee voting today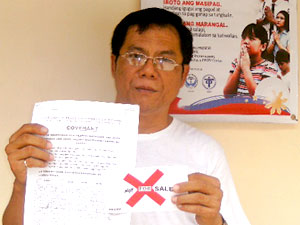 PHOEBE ROBLES - INTERN
President Gloria Macapagal-Arroyo had been remiss in her job as the country's highest elected official due to the absence of any leadership training, management ability and experience before becoming president.
A worker of the Iloilo Coal-Fired Power Plant took himself hostage Tuesday evening at the plant's construction site at Brgy. Ingore, La Paz, Iloilo City.