Miss Silka Iloilo Talent tilt on May 2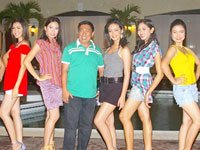 The candidates with Edwin Patenio, district sales manager of Cosmetique Asia.
The talent competition of Miss Silka Iloilo 2010 will be held on May 2, 3PM at Robinsons Place Iloilo. The candidates previously competed in the Swimwear and Resort Wear competition in Hotel del Rio last April 17.
Miss Silka 2010 is a project of Cosmetique Asia Corporation that aims to promote the true beauty of the Filipina. "She doesn't have to be necessarily fair skinned but it's more about her total personality," said Edwin Patenio, district sales manager of Cosmetique Asia. "This also aims to promote the Silka brand. The winner will have the chance to be part of the 'Alagang Papaya' Silka TV commercial. In fact, Miss Silka 2009 is already part of a TV commercial that we are shooting this month. She will appear with Iya Villania, our celebrity endorser. She will also represent Cosmetique Asia in major brand awareness activities," Patenio added.
Tony Sia, distributor of Cosmetique Asia in Iloilo, said that the product enjoyed a double digit growth in the last four years.
The Miss Silka Iloilo 2010 pageant night will be on May 22, 7PM at the WVSU Cultural Center.
Miss Silka Iloilo 2010 is being organized by TMX, your travel & marketing experts, in cooperation with Mang Inasal, Mindworkx, Lecit-E, I-travel Express with Deocampo Original Barquillos, Hotel Del Rio, Amigo Plaza Mall, Robinsons Place Iloilo, Citi Appliance and Hopewell Finance Corporation. The official tabulator of the pageant is STI – Iloilo.