PURR
Work in Style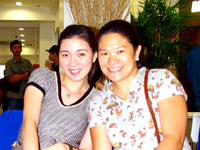 Gigi Sy, Amigo Plaza Mall supervisor and Pia Uygongco, executive director of UFI.
Being well-dressed for a job interview increases your chance of getting hired apart from being intelligent, skilled, disciplined and confident.
The Uygongco Foundation, Inc. held a two-day jobs fair and one of its activities was a fashion show featuring the working clothes of Bayo. It was a splendid collection of tops, trousers, capri pants and skirts as well as big and belt bags. Classic lines that are ideal for the working environment were fused with modern colors and designs in order to promote that "chic" and not the "conservative" look. The collection presented professionalism and fun at the same time.
Apart from the fashion show, the audience was taught on how to make a resume and how to handle job interviews. Surrounding the event center of Amigo Plaza Mall were tables of varied companies who were busy interviewing and accepting job applicants.
According to Pia Gan Uygongco, executive director of UFI, the jobs fair was a venue that gave people a chance to be matched with the companies they want to work in. "It was our first jobs fair and we will hold this annually every April 9 and 10. This is one of our efforts in providing a better life for the community," she said.
The jobs fair was in partnership with the Department of Labor and Employment, Iloilo Business Club, Amigo Plaza Mall, Bayo, JCI and TMX. It was TMX that organized the event.
The UFI also has feeding and education scholarship programs. The former is benefiting five public schools daily while the latter is sending 400 scholars to school. "We also provide a teacher's training for 30 teachers at a time. We have mentors from Miriam College from Manila who provide these training," Uygongco said.