Prep for Acting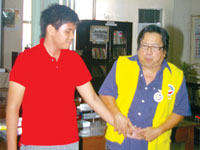 Actor Leo Martinez teaches a student how to breath properly.
A workshop with Leo Martinez and an introduction of the media and show business alliance
Actor Leo Martinez was in Iloilo last April 7, 2010 to give a short acting workshop for some theater students at the Provincial Library, Old Capitol Building.
Being relaxed is an important preparation for acting. Thus, Leo shared three ways of relaxation. First is deep breathing, which is inhaling from the diaphragm. Second, is the "tense and relax" technique. And third, is the "stretch and yawn" technique.
After that, he told everyone that "the brain is not necessarily needed in acting. You need feeling; you don't think out a feeling. You act out a feeling." Thus, he asked those present to try several sensitizing exercises so that we will appreciate all our senses – smell, sight, touch and taste.
Alliance
Martinez was in Iloilo City not just to offer acting workshops but to promote his partylist, the Alyansa ng Media at Showbiz, Inc. Martinez is one of the nominees for AMS. With him during the workshop was fellow nominee Rolly "Lakay" Gonzalo, who was kind enough to explain what AMS is all about.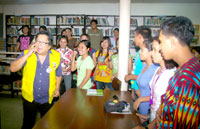 Students laugh at something that Martinez said.
"AMS is a representation of the media and showbiz personalities. True, we have personalities who became politicians, but there was no focus on the welfare of the people in media and show business. By having representation in Congress, we would be able to give protection to our media and showbiz practitioners," Gonzalo said. "We wish to revive the Media Workers' Bill in order to do this. We have "small" members and some have no jobs. We have to take care of ourselves. We need to ensure that media and showbiz personalities have access to housing, health care, insurance and education and other basic concerns that need to be put in order. We have many personalities who are very courageous in their coverages who are actually in a hand-to-mouth existence. Some die while during their jobs. In this industry, five percent are glamorous and 95 percent needs help," he added.
Gonzalo also lamented on the "dying" showbiz industry. "We used to have 100 directors. Now, we have 10 only because more have ventured to indie films that require less expenses.
Gonzalo said that apart from him and Martinez, the other nominees for the AMS Partylist are Manny Calayan, Edgar Dy and Joel Egco.