Theme Weddings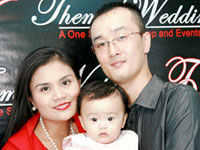 Princess Herrera Lee and Chris Lee and their baby.
Theme Weddings has opened in Iloilo City to provide Ilonggos with that "perfect wedding," It is owned by Erick Sua-an and Princess Herrera Lee & hubby Chris Lee.
"Our shop is the first local one-stop bridal shop here in Iloilo. We handle wedding planning, from engagement to stag and shower parties until the big day. We also organize debuts, anniversaries and birthday parties. We make gowns for the bride and her entourage as well as the debutante," said Erick. And here's the good news. These gowns will be decorated with unique hand-crafted accessories. After all, Erick is a jewelry designer.
Theme Weddings opened last March 28, 2010.