PURR
Lights and Scenes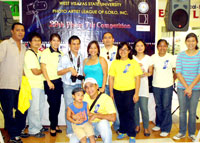 Students of Photography 1.
A photographic exhibit of lights and scenes. This was what the Photography 1 and 2 students of the West Visayas State University (WVSU) presented to the public at Amigo Plaza Mall last April 5 to 8, 2010.
The exhibit was a culminating activity and competition involving categories on festival, religious-traditional, environmental hazard, lights designs, light painting and economic recovery.
It was the 29th Photo Tilt of WVSU and the Photo Artist League of Iloilo, Inc. (PALI). The latter is an organization composed photography enthusiasts who also provide training to those who want to be better in this hobby.