Alimodian High School Class 1960 celebrates Golden Jubilee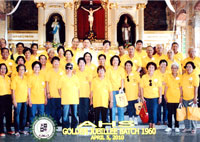 Front row: Florence Loredo, Herminia Almeniana, Ninfa Alvia, Juliet Gonzales, Celia Albuya, Zanaida Ragzag, Rosalie Concepcion, Delma del Rosario Jo, Himaya Almira, Adelina Hejosa, Lorenza Tolentino, Paz Alisla and Emily Anam (rep. Neptalie Anam). Second row: Rogelio Tolentino, Teresita Fernando, Marlyn Lautriso (rep. Celia Angelitud), Daniel Rodriguez, Policronio Gajo, Normita Alonda, Evangeline Declarador, Elvira Casorla and Luvisminda Hingzon. Third row: Modesto Amargo, Helen Anib (rep. Celia Angelitud), Juliet Ambong, Inocencio Alloso, Rogelio Amparo, Rev. Fr. Edgar Palmos, Virgenia Alere, Rodrigo Allona, Abe Beatingo, Lenard Alere (rep Felicito Alere), Niel Alonda, Adolfo Casorla, Oscar Alcontin, Rafael Alido and Juan Ampane.
The Alimodian High School Class 1960's Golden Jubilee celebration started with an opening salvo last April 4, 2010 by way of a cocktail hosted by Juliet Gonzales at their residence at Plaza St, Alimodian, Iloilo.
On April 5, they had a thanksgiving mass and they offered prayers for their departed classmates. This was officiated by Rev. Fr. Edgar Palmos and held at the Santo Tomas de Villanova Parish Church. After the mass came the motorcade and caravan with the Alimodian Motorcade Club as marshal and the Alsibango Drum and Lyre Corp playing all around the poblacion and nearby barangays of the municipality.
The motorcade ended at the Alimodian National Comprehensive High School campus, their Alma Mater. The principal, Ms. Phoebe Anciano, welcomed the group at the quadrangle. A breakfast sponsored by the Casorlas, followed at the school canteen.
The highlight of the gathering was held at Loredo's farm in Legaspi Street, where the Jubilarians danced the 60's stroll, mashed potato and the twist, with Faith Javellana and sang their favorite songs. A message was delivered by their Filipino teacher Ms. Francisca Almonte. Invited to entertain the group were vocalist Trinidad Antonio, violinist Patrick John Alingasa, pianist Neel Alcayaga and Tiffany Berjes who rendered a ballet number.
On April 6, the Jubilarians had an outing with their families at Katamnan, Pulao, Dumangas and it was sponsored by Rolly and Belinda Amparo. They have their hataw exercises, singing, ballroom dancing, mahjong, swimming and games. The last activity was the election of the new set of officers.
It was indeed a good celebration of memories shared and camaraderie. After all, they can only celebrate their Jubilee once.