Jonas Antonio Bellosillo and his passion for service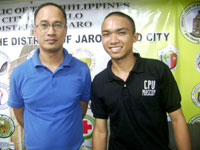 ABC President Jonas Bellosillo with the writer.
Despite the fact that he is only earning a little less than those who are in higher political seats, Association of Barangay Captains (ABC) President Jonas Antonio Bellosillo is content in giving humble service to his constituents in Jaro.
The barangay is at the bottom of the political hierarchy of the country but nation building depends on the success of this community. For Cap Jonas, to serve is to sacrifice.
Several projects had been initiated under his leadership. One is a mass feeding project that started in 2005 and continues to serve the less fortunate in Jaro until the present.
The ABC of Jaro also advocates the rights of women and children and empowers the community through seminars like "Lupon ng Tagapamayapa." They also support the solid management program of the city government, which is the "no segregation, no collection policy."
Bellosillo is also the Punong Barangay of Simon Ledesma and he is now on his second term. Some of his projects for the barangay are free nursery education, anti-rabies campaign, improvement of health facilities, boost awareness on the security of properties of establishments in his area.
Despite being bombarded with politically-related concerns, he said that he is armed with enough experience and that he is driven by faith.