Roy Sesbreño does it again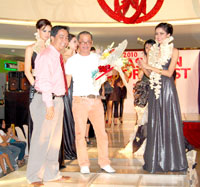 Roy Sesbreno & SM City Iloilo Asst. Mall Manager Engr. Gilbert Domingo and models.
If there's one designer in Iloilo who can really deliver, it's Roy Sesbreño. With years of excellent designs under his studded belt, the infallible designer wowed the fashion-loving crowd as he presented his 40- piece collection in "Forecast 2010 by Roy Sesbreño" held at SM City Activity Center. Unexpectedly edgier than his usual designs, the leather-linen-georgette-tweed collection was a revelation. As usual, Sesbreño proved that he can succesfully work with different fabrics, materials and styles and not be overwhelmed. To Roy Sesbreño, congratulations on the flawless workmanship of your designs and for continuing to be a silent but powerful force in local fashion.