PURR
Kiosko ni Dagoy succeeds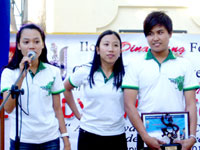 Testimonial from the representatives of Kiosko ni Dagoy of WVSU, first placer.
Kiosko ni Dagoy, manned by students of West Visayas State University, was the first place winner in the Estudyante Negosyante competition held in relation to the Dinagyang Festival recently. This group and many others from varied schools, operated booths along Iznart Street during the said festival and competed on who had the best marketing skills and who sold the most number of Dagoy dolls and Dinagyang T-shirts.
According to the winners, they were told of the competition during a time when they were very busy. But their teacher said that they could make it as long as each will cooperate. Thus, the group spent days and nights preparing for their booth and marketing strategies as well as encouraged each other along the way. They said that the efforts were all worth it because they won and at the same time, learned so much.
The second placer was Theresian Tribe and the third placer was All 4 One of St. Therese. The other competing groups were CSC-PSITS, Junior Executives, Tribu Pabz, Junior Institute of Marketing Executives, Tribu Agustino, JMEX Student Organization, Junior Marketing Association and Josephian Crafts.
The judges for the competition were this writer, Maru June Tuares and Robert Ferrer.
Marissa Segovia, board member of the Iloilo Dinagyang Foundation, Inc. told the students that she started they way they did and now, she helps run their family business. She reminded them of the importance of marketing, of being innovative, of thinking out of the box as well as having fun.