PURR
One fine dining treat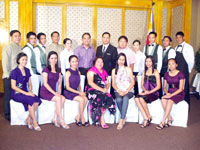 The men and women of KCARSI headed by Concepcion Carillo with the staff of Days Hotel Iloilo.
The Pangulong Gloria Scholars taking up Commercial Cooking and Food and Beverage Services at the Kryz Culinary and Restaurant Services Institute (KCARSI), learned the basics of fine dining at Days Hotel Iloilo recently. The theme was "Table manners really matter."
KCARSI, a successful and credible provider and enhancer of skills in food, beverage and crafts, hosted this activity, with the support of the Days Hotel Food and Beverage Department.
The first batch, which dined in the morning, was composed of PGMA scholars from Leganes, Sta. Barbara, San Miguel and Alimodian. The second batch that dined in the afternoon, was composed of scholars from Lemery and Iloilo City.
Xavier Ledesma, Food and Beverage manager of Days Hotel Iloilo gave them pointers on fine dining, while Concepcion Carillo, founder and president of KCARSI and Kryztoff Carillo, administrative officer, gave inspirational messages.
Fine dining is one of the many perks of studying at KCARSI. Added to that are P25,000 accident insurance and free work text (called 'workbook' to many).
Trainings are held on site at Bonifacio Drive for Iloilo City and in selected towns.
For more information about KCARSI and its courses, contact telephone numbers 5086714, 8570704 or 09089289284. Or visit their office and center at Bonifacio Drive, right in front of the Metro Iloilo Water District office.