Iloilo Prima Galaw, Inc. performing arts at its finest
"We dance for laughter, we act for tears, we sing for madness, we write for fears, we paint for hopes, we speak for screams, we are the artists of Iloilo Prima Galaw Incorporated, we create our dreams."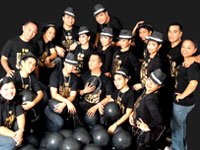 Iloilo Prima Galaw Inc.
The men and women of Iloilo Prima Galaw Incorporated work and live from the inside. They drive themselves constantly producing a glow that lights not only themselves but audience after audience. This is them.
With a repertoire of numerous full-length productions performed in extensive plays here in the City and in Manila, IPG has significantly contributed to Philippine National Theater and Cultural dances. To name a few, they have had: Balangaw, Bukang-Liwayway, Sayaw Paraiso, Bandilang Pilipino, Gising Pinoy, Bread for the World, Soundtraxx, The Dancers, Play the Judas, Three Generations, Fiddler on the Roof, Minda Mora, Walang Sugat, The Sound of Music, Peter Pan, Ang Sistema ni Propesor Tuko, Oedipus Rex, Hiyaw and recently, Celebrating Dreams.
IPG was recognized as one of the Ten Accomplished Youth Organizations in the Philippines last 2009.
Its productions have drawn much acclaim from critics and audiences. IPG has developed a signature dance theater format based on the Pangalay, an indigenous dance form that is the Philippines' closest claim to classical dance.
IPG was founded in 2008 by its present Artistic Director Romie John Delariarte. It is recipient of various national and regional awards and endowments that have acknowledged IPG's contribution to contemporary Philippine Dance and Theater.
UPCOMING SHOWS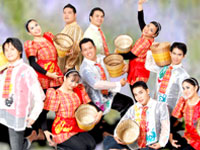 The IPG artists.
This Valentine's Month, IPG believes that "the secret of art is love." Gleaning from the greatest love stories, poems and songs of all time, "A Night for a little Romance: Dinner. Dance. Drama. Music…" is a treat for the senses. This is their Post-Valentine Production Tribute that will happen on February 26, 2010, matinee at 2 PM and gala with dinner at 7:30 PM and on February 27, matinee at 2 PM, gala ana dinner at 7:30 PM at the Emilion Function Center, General Luna Street. As the line in the play says it best: "Love is always worth it" so shall A Night For A Little Romance be for you.
Then, on March 2010, RGO Review Center will be sponsoring IPG as they will be performing together with the prestigious and talented choir members of the University of St. La Salle in different localities: Iloilo City, Bacolod City and Cebu City.
Likewise, IPG will be in charge of St. Paul's Hospital Production as they are celebrating their 100 years of St. Paul of Chartres Congregation in Iloilo that will be held on March 2, 2010.
Aside from that, they will launch "Rock for the Earth". They will utilize art as a medium to help educate the youth, instill hope and help save the environment through forms of music, dance, theatre, visual arts and writing.
In all their activities, IPG believes that artists lead unglamorous daily lives of discipline and routine, but their work is full of passion. Each has a vision and feels responsibility to that vision.
IPG is truly a rainbow of arts, youth, talents, education, positivism, history, values, hope, dreams, discovery and lastly, inspiration.