The wizards of Math
They are not just wizards of Math but also well-rounded individuals. It's just their nature to be competent.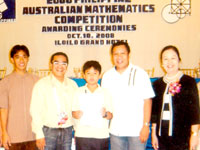 Leo during the Philippine Australian Mathematics Competition.
EVEN complex mathematics are a piece of cake to these three Math wizards of Solomon Integrated School de Iloilo.
For Leo Emmanuel Occeno-Sombiro, 11; Vincent Jaime AC Benitez,12 and Niel Marc Dasas, 10; the subject which most people shy away from, is their favorite. It's no wonder that they've been bagging medals in prestigious tilts like the Math Olympiad held in Singapore, China and India.
Leo's latest feat is winning the gold medal in the Math Olympiad held in India in October 2009, while Niel and Vincent were medalists during the Math Olympiad held in China in August 2009.
"My interest in Math started when I was still at a very young age. My parents and my teachers discovered that I did not have a hard time answering questions in Math and that I was always sent to competitions. I don't know how it happened but I guess, it is a gift from God," Leo said.
They are not just wizards of Math but also well-rounded individuals. Outside of additions, subtractions and the like, they engage in varied activities. It's just their nature to be competent.
Leo reaps awards in literary and musical contests, poem interpretations, music, writing and oration. To state a few of his many achievements: Editor-in-Chief of the Solomon's Writer Society, bass guitarist of the Solomon's School Band, vice president of the Solomon's Round Table. He is also the class president for school year 2008-2010.
"I engage myself in various activities primarily because I believe that I can do it. Sometimes, I challenge myself whether or not I can do it. If I don't win, I justify it by telling myself that maybe it's not really for me and that my forte is different," Leo said.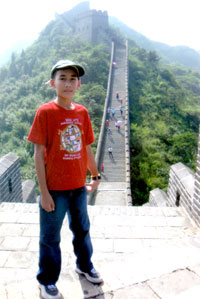 Vincent at the Great Wall of China.
During the weekend, Leo usually plays online games like Grand Chase. "I can stand playing the whole day but my parents get angry when I do that. I also love playing with PSP and WII. Other times, I like going to the beaches with my family. I love swimming and eating," he said.
Vincent plays basketball and chess. With basketball, he learns about sportsmanship and teamwork. It is through playing chess that he becomes adept in strategies and becomes mentally alert. He also plays computer games like DOTA and Counter Strike.
Neil, on the other hand, loves reading books. He mentioned reading through the pages of Harry Potter: The Goblet of Fire and Diary of a Wimpy Kid by Jeff Kianey. He loves to watch television, with Pokemon and Naruto as his favorite cartoon shows. His love for Naruto is translated at the PSP as well, by excelling in the games of Naruto II, Naruto Ultimate Ninja and Heroes II. "I always win,"he said during the interview.
Amid all these activities, the trio considers the trip to a foreign country for the Math Olympiad as the most exciting.
"It was an experience to go to a foreign country. I learned about Chinese culture and most of all, build my confidence," said Vincent.
"When I went to Singapore in 2008, I was not that confident that I will make it because I was the only one in the elementary level from Iloilo. There were new faces and I was inferior to children bred in Manila schools. I had a hard time with the questions as they were quite difficult. Perhaps we were all not that prepared because everybody underestimated international Math contests, thinking that the Singapore thing was just easy. Nevertheless, I gained new friends and it was my first experience traveling outside the Philippines. It was very memorable – the friends I met, the places I visited and the bonding with my mother. I was with my mother and she was my moral booster," Leo said.
"Because of the Math Olympiad, I was able to go to the Great Wall of China and saw that it was really big. I also went to Bird's Nest," said Niel.
Leo is the son of Atty. Leo Sombiro, a practicing lawyer and Ana Marie, a bank employee. Vincent is the son of Ltc. Angel Maglaya Benitez, a soldier and Maria Elena Antenor Cruz Benitez, a government employee. Niel is the son of Arnel and Ma. Fe Dasas.
They said that the support of their parents have led to their success in whatever endeavors they get into.
To Leo, Vincent and Niel, congratulations for making the Ilonggos proud.