I-TRAVEL
Back to reality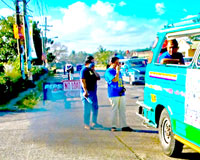 Aso mo, masakit ko.
After all the festivals, Iloilo City is back to the nitty gritty of everyday life.
Everybody hustles for sustenance and life itself in an environment that is polluted.
The number one pollutant in our midst is smoke. Take a look at the smoke emitted by vehicles, especially public utility vehicles at that! These are the locally assembled jeepneys.
And there's the smoke coming from burning our own garbage in the backyard or improper way of disposing our trash.
Thus, before this gets worse, some individuals formed themselves into the Coalition Group of Concerned Citizens of Iloilo City as well as the City Government. The group will promote a campaign to promote awareness and mobilize protection of all against the harmful effects of smoke.