Ambahanay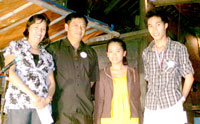 The writer with judges Tootsie Casio and Cindy Arcangeles and Category B first runner-up Francis Balasa.
THE first "Ambahany" singing contest was held at Hillside Bar and Resto, Malag-it, Pontevedra, Capiz with the humble but laudable purpose to help promote the talents of the youth in local communities and at the same time, promote our local culture through literary-musical activities.
The singing contestants were sourced from local schools within the municipality of Pontevedra, Capiz and Roxas City to join in two categories: 8-15 years old (Category A) and 16-25 years old (Category B). Qualified contestants came from the following schools: Step By Step Christian Academy (Robert John Baril), Dona Victoria Cortes Dais Memorial School, (Jizzel Bordones, Joana Mae Nunez and Jannah Mae Belvis), Pontevedra National High School (Elezar Arcenas and Elizany Arcenas), Capiz State University (Josiellete Biaco, Ergil Romualdo and Raffy Dagmil) all in Pontevedra, Capiz, and Filamer Christian College (Daniele Arbolado) in Roxas City.
The criteria for judging were based on voice quality, interpretation, diction and syllabication, and audience impact. Judges for Category A were: Susana Degracia-Apolinario of Pontevedra National High School, John Rafael and Christopher Conlu of JUST Band in Roxas City, and for Category B: Col. Virgilio "Tootsie" Casio of The News Today, Danilo Baltar of Capiz State University, and Cindy Arcangeles of JUST Band.
After careful deliberation by the judges, the following were adjudged as winners: Robert John Baril (champion), Jizzel Bordones (1st runner-up), Jannah Mae Belvis (2nd runner-up) for Category A, Josielette Biaco (champion), Francis Balasa (1st runner-up), Raffy Dagmil (2nd runner-up) for Category B.
The event was made possible through the efforts of The News Today Capiz Bureau, Spell Works Media Productions and support of the following sponsors for the cash prizes, trophies and medals: Mayor Steve Contreras of Pontevedra, Edgar Caldea of Capiz Settlers Coopbank, Pablo Chu of Solid Motorcycle Distributors, Edgar Sia of Injap Supermart, Arthur Young of Agritex, Ed Santos of Divine Jesus Memorial Park, Col. Joseph Bernales of Golden Eye Security and Training Academy, Atty. Kenneth Alovera of PNB, Board Members Evan Contreras and Clemente Firmalino, City LIGA President Wilson Acervo, Roxas City Vice Mayor Ronnie Dadivas, and Col. Virgilio Casio. Special thanks are also extended to the hosts of the activity: Danilo "Bong" Baltar, Jose "Pepe" Borres, Ma. Ophelle Celine Angeli "Moca" Baltar and the management of Hillside Bar and Resto for the venue. Congratulations, everybody, for the commendable activity!