I-Travel
The Photoworld Asia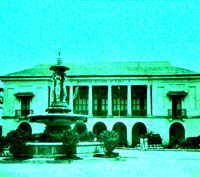 An old, old foto of the Arroyo Fountain and the Capitol Building. This is found in one museum gallery in Manila. Presented by a collector to the attendees of Photoworld Asia meeting, providing all of us the history of the Philippines through photos preserved for many years. So as time passes by, we are all given valuable information that photographers can freeze time and preserve the history of our native country.
PHOTOWORLD ASIA was started by the Federation of Photography. This is where all Asian photographers get together at some time each year with a common pursuit to photograph. This is a good program initiated by the leaders of the Federation of the Philippine Photographers based in Manila.
Recently, the leaders of the Federation, visited the Photographic Society of Iloilo. The purpose was to finalize the coming of the Asian Photographers group from the southern islands of Cebu, Bacolod and Iloilo City. In Iloilo, the PSI will host these photographers for a few days. In these days, we all will be busy photographing a whole lot of tourist attractions in and outside the city of Iloilo.
The program is to foster, fellowship and photography of the different photo sites of each country. Thus it is called CROSSING BORDERS. This proves to be very useful for each country, particularly to educate the people of the opportunities that each country can offer, thru photography..
The PSI recently attended the yearly photo course offered by the Federation. This was aptly called Photoworld Asia. Most of the Asian countries were represented. The program of CROSSING BORDERS was finalized. The Asian Photographers will arrive into Iloilo City, and the PSI will play host to them for a few days of shooting the tourist oriented places of Iloilo City.