PURR
Iloilo Radio Shack opens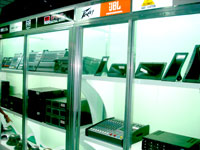 Mixers, amplifiers and speakers.
THE best of home theater systems, professional audio systems, karaoke, professional lightings, lasers as well as rentals and installation and other services in relation to these are now in Iloilo City.
This, with the opening of Iloilo Radio Shack Electrical Sales and Repair at the No. 3 Mayflower Building, Mabini Street (beside Health Link).
Arthur Abordo and his wife Beverly are the proud owners of this shop that boasts of high quality brands like Bowres and Williams (BW), Onkyo, OBX, Crown, Sound Power, Delta, Labgruppen, Martin Audio, Spirit Professional Audio, JBL Professional, Behringer, and Sakura as well as parts, crossovers and electrical accessories for these products.
According to Robert Abordo, the owner's son, everyday is a fun day at Iloilo Radio Shack because passers-by can hear great music coming from the shop. "Here, you just don't get tired because the music keeps you up," he said.
Radio Shack is home to the finest technicians who are updated on the latest global trends in the industry, headed by its manager Renante Abiday, making the shop the most sought-after among clients as far as Bacolod and Cebu.
As their slogan goes, "Better sounds through research."