Baile Latino!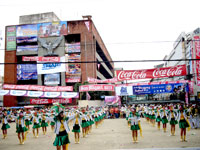 Colegio de San Jose Drum and Bugle.
THE Kasadyahan Festival last January 23 was a venue for organizations to showcase their talents in an afternoon event entitled "Baile Latino."
Meaning "Latin dancing," the event was a play of extravagant and colorful costumes, giant floats and a large number of participants shouting "Viva Sr. Sto. Nino!"
More than 70 public and private institutions joined this merry making event. The locals as well as tourists enjoyed the fantastic parade.
Of course, there was a competition among them. The Municipality of Dumangas was Best in Mardi Gras, Colegio de San Jose was Best in Costume, St. Therese MTC Colleges was Best in Participation and Jollibee was Best in Audience Impact.