'Estudyante Negosyante'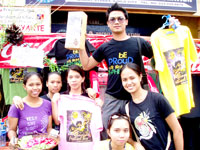 Junior Institute of Marketing Executives, UI-Phinma.
Eleven groups of students from varied universities tried their luck in earning during the Dinagyang Festival last January 22 to 24, 2010 in a competition entitled "Estudyante Negosyante."
Lining up along Iznart Street, the booths were either cute, tribal or just your regular-looking booth. They sold Dagoy dolls, Dinagyang T-shirts, delicacies, food, crafts, and more to the passers by.
The criteria for judging were: physical appearance of the booth (creativity and well-organized), marketing attitude (courtesy, knowledge and ability) and the number of Dagoy dolls and Dinagyang T-shirts sold.
The Estudyante Negosyante is a school-based competition which aims to create an economic opportunity, provide avenue and develop entrepreneurship, teamwork, leadership and business skills of students.
It is a joint project of the foundation's committee on kiosk and in cooperation with Coca-Cola Bottlers. The City Tourism and Development Office is this year's in-charge of kiosks committee. (With reports from Maricar Calubiran)