Don Protasio for 2010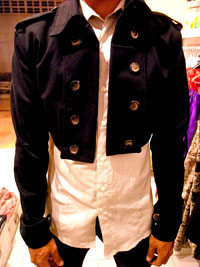 CAMBODIA-BASED Ilonggo designer Don Protasio has created new designs for 2010. The inspiration for his pieces was Helmut Lang, the Austrian designer who defined most of the styles in the late 90's.
"An autodidact, I was inspired by his style and philosophy because I myself is self-taught when it comes to designing and making clothing. I also feel connected with the minimal school of style and affinity for tailored pieces," said Don.
"The pieces I made are severe, graphic and season-less. They are practical because they are easy to incorporate into any existing wardrobe. They're made of stretch cotton so they're easy to use in the tropics. I actually think they're cool. The graphic printed, colored tees use micromodal jersey, a fabric softer than cotton," he added.
"There's really nothing high-brow about the designs I make now. I think I've matured quite significantly in that I want the most easy and comfortable pieces. It's still not basic clothing pieces but something well-thought of and 'designed'."