Wine tasting by the Sommelier Wine Club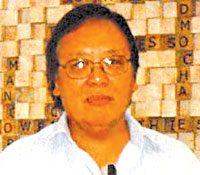 Joe Meneses of Titania Wine Cellar.
Bluejay Coffee & Deli's Sommelier Wine Club members had their last wine tasting for 2009 at their chic Amigo Shopping Mall branch. Some of the city's wine aficionados were present not just to drink but also to learn about great wines from guest speaker, Joe Meneses, wine guru of the famous Titania Wine Cellar in Manila. The lively party concluded with fun games and raffling of prizes that had everyone in high spirits.
Congratulations to enterprising couple Julian and Arlene Juantong of Bluejay Coffee & Deli for a job well done!