The first Mr. and Ms. Iloilo Nursing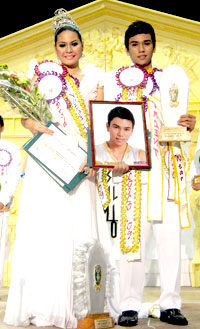 Ms. and Mr. Nursing Iloilo Dianna Jainga and Tynnel Banas.
THE Student Nurses Association of the Philippines (SNAP) – Iloilo Chapter held the first search for Mr. and Ms. Iloilo Nursing at the University of San Agustin gym last December.
Crowned were Diana Angelie Jainga and Tynnel Joden Banas. Their runners-up were: Reyna Rose Tanales and John Kevin Jereos, 1st; Beverly Joan Gregorias and Charles Andrew Chu-Santos, 2nd; Stephanie Juanitos and Jairus Gelvezon, 3rd; and Evony Allisa and Christian Rey Marco, 4th.
The candidates wore the creations of Alex Soncio of Alta Moda, one of the sponsors of the event. The other sponsors were RGO Review Center and J&R Family Studio by Dolly Chua.
The proceeds of the event will be used for the varied projects of SNAP, like the SNAP Olympics, leadership training and SNAP ICC Seminar, among others.
SNAP Iloilo Chapter's president is Kim Mendoza Sustento.