Iloilo City (Host) Lions Club roars big on medical missions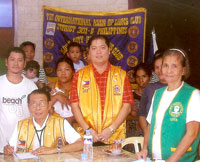 TRUE to its Lions motto, "We serve," the Iloilo City (Host) Lions Club, headed by Dr. Greg Sancho, MJF in addition to the several activities undertaken by the club had conducted medical missions in different barangays in the varied districts of Iloilo. They bring free medical consultation with free medicine, bringing medical services close to the people especially the less fortunate.
The club has also joined and supported similar activities by local government and other civic organizations not only in the city but in neighboring towns like Miag-ago, Tubungan, San Miguel, Passi, Janiuay, Calinog, Leganes, Zarraga, Barotac Nuevo, Anilao and as far as Valderrama, Antique and Caticlan, Aklan rendering service to the people In the true spirit of Lionism. Where there is a medical mission, the Iloilo City (Host) Lions is always there.
The members of the medical team are Lions PDG Dr. Pete Jaena, MJF; Drs. Jun Dalisay, Willy Polido, Pete Zaldivar, Manny Palomata and Tess Canja. All had actively participated in the medical missions for the club.
Providing the free medicines given to indigent patients is the Regional Office of the Philippine Charity Sweepstakes Office (PCSO) headed by Director Jeanette Oberio, herself a Lion and Past President of the Iloilo City (Host) Lions Club.