Garden of the Ascension's fun during Dinagyang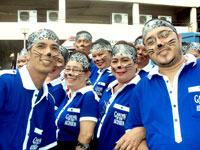 ONE of the exciting facts of Dinagyang Festival is that organizations have the chance to parade and present on the streets during the afternoon after the tribes competition. Dressed in their uniforms, these organizations showcase their dance steps and other gimmicks, thus stopping the crowd in their tracks in order to watch. This portion of the festival is called "Sponsors' Mardi Gras." This year, it took place on the afternoon of January 23, wherein 70 companies joined.
One of them is the Garden of the Ascension group, which celebrated 2010, being the Year of the Tiger, in a tiger-themed presentation. Dressed in their blue company shirts and jeans, the management, staff and agents of Garden of the Ascension painted their faces with whiskers and nose, wore headbands made of tiger cloth as well as attached tiger claws on their fingers. There were 62 of them who participated, including 50 warriors and 12 drummers.
They also brought their tripping van in order to advertise Garden of the Ascension's turning 10 this 2010.
"Surprisingly, agents who are aged 40 to 72 years old, finished the entire route, which is composed of the four judging areas," said Jaresh Ng, manager. He added that the group's performance received positive praises from the crowd, with foreign nationals requesting that their pictures be taken with them. It was another attempt to bond the agents together and the enjoyment lasted until the evening when they had dinner in one of the city's restaurants. "We had so much fun!" Ng said.
Ng said that Garden of the Ascension had been consistent in supporting the Dinagyang Festival through the years.