Happy fiesta!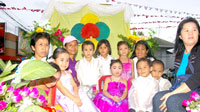 A pose during the Jaro Fiesta opening parade last January
TODAY, Jarenos will open their doors to their relatives, friends and acquaintances and share their blessings (food, food, food!) with the celebration of the feast of Nuestra Senora de la Candelaria or Our Lady of Candles.
The religious will flock to the Jaro Cathedral, which houses the miraculous statue of the Virgin Mary, which was crowned by the late Pope John Paul II when he visited Iloilo in 1982.
The Jaro Fiesta, is also a venue for vendors to earn money and for the public to purchase affordable items at the Jaro Agro Industrial Fair.
Starting last January 19, Jaro Plaza is already filled with vendors and game operators who are hoping to experience good business because, after all, this is the biggest district fiesta being held.
Take the case of Sharon and Glen Fernandez, sandal vendors. They had been selling sandals during the fiesta since 2002. Although Sharon admitted that sales had been poor compared to last year, she still hopes that today, when people flock to the plaza, business would get better.
Other items sold inside the fair are ukay-ukay, assorted toys, flowers and plants, potteries, wood craft and refreshments (expect a lot of drunks tonight). A carnival of varied rides, betting games and video games, can also be enjoyed.
Outside of the plaza is another attraction – the cockfights. Cockfighting aficionados and cock breeders from different parts of the country go to the Iloilo Coliseum to participate.
The fiesta is capped with the coronation of the Fiesta Queen. This year, a scion of the Guadarramas (Biscocho Haus fame), will wear the crown. She's Clarice Helene Guadarrama Saulong.
So, when you're in Jaro today, enjoy yourselves but stay out of trouble. (With some reports from Glen Jumayao)