The Queen and her court
Queen Clarice
Clarice Helen Guadarrama Saulong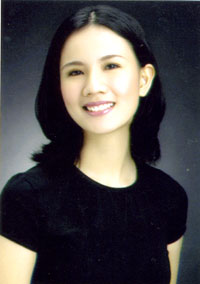 Clarice Helene Guadarrama Saulong.
THIS year's Jaro Queen is Clarice Helene Guadarrama Saulong, the younger of two daughters of banker-businessman, Raul Saulog of Imus, Cavite and Jarena, Maria Gloria Jalandoni Guadarrama. She is the daughter Dr. Carlos Guadarrama and Teresa Jalandoni. She spends Christmas and some special occasions and vacations in Jaro. During her visit, she makes it a point to visit the Cathedral and the Our Lady of Candelaria.
She's a graduate of Bachelor of arts, major in English Literature from the Ateneo de Manila University.
She's presently doing marketing research projects of varied companies and individuals.
Tonight, Clarice will be crowned as Jaro Fiesta Queen for 2010. The coronation will take place at 8 PM at the Jaro Covered Gym.
The Queen Consort
Juan Carlo Raphael P. Saulog
Queen Clarice's consort is Juan Carlo Raphael Saulog, eldest son of Alejandro Saulog Jr., lawyer and senior partner of Saulog and De Leon Law Office and Prosecutor Imelda Portes Saulog of the Makati City Prosecution Office.
He is a freshman student at the Ateneo School of Law after finishing the degree Bachelor of Science in E-Management.
A fastidious dresser, Carlo keeps an eye on the latest fashion trends in men's clothing and footwear when traveling with the family.
"It takes investment in hard work, time and drive to be the lawyer I set my goal to be. Someday, I hope to be of service to others and make a difference in the profession," he says.
The Princesses and their Consorts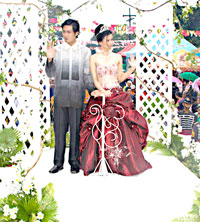 Clarice with her consort Juan Carlo Raphael Saulog.
The princesses and their consorts are Gessa Ashley Cabulong and Fritz Aldwin Jamorabon Lebrillo, Louise Ann Florelle Pasadilla and Geward de la Banda, Mikaela Maria Taleon and Mishael Patrick Jalandoni.
Gessa Ashley is the youngest among the three children of Dungon A Jaro Barangay Captain Genoveva J. Cabulong. Their father Pedrito Cabulong passed away in 1997. She is a 4th year student of Jaro National High School. She is a member of the Philippine National Red Cross. Ges is active in school activities. She is self-motivated when it comes to her studies. Her hobbies are surfing the net, reading books, chatting with friends, listening to music and watching TV shows. She is planning to take up Tourism after she finishes high school this year.
Fritz Aldwin Jamorabon Lebrillo is the eldest son of Luisito Bacera Lebrillo and Punong Brangay Cherrie Jamorabon Lebrillo of Barangay Maria Cristina, Jaro. He is a senior high school student of Central Philippines University (CPU). Choco loves going out with his friends, cracking jokes, and playing basketball. He is a varsity player of the school's basketball team.
In all his actions and decisions, he is guided by his goal in life, "No matter how successful or unsuccessful you are, no matter what you do, you have to remain true to the core of what you are as a person."
Louise Ann is the daughter of Dione and Joy Parra Pasadilla of Prince Road, Imperial Homes II, Jaro.
She had been judged Little Miss Alta Tierra 2004, a parish-based competition, choir member of Our Lady of Fatima Parish, Alta Tierra Village. In her school she is an academic achiever, class president, a majorette member and a full-fledged member of Children of Mary. In the regional level, Louise Ann is a CSJ Girl Scout Camper- Cebu, CSJ delegate to NASSPHIL and PRISAAP, CSJ Delegate to COM National Convention and Youth Camps- Manila, SF School of Dance student. She also joined the National Ballet Festival and Competition- Manila in 2007,2008 and 2009 as well as a Philippine Delegate to the 2008 WORLD YOUTH DAY in Sydney, Australia.
Geward is the son of Eduardo de la Banda and Ma. Guina de la Banda and he is presently a Grade 9 student of Colegio de San Jose. Jaro Plaza had been his playground for he resides at # 94 Plaza Rizal fronting the Archbishop Palace. He considers himself a normal teenager for he enjoys playing basketball and computer during his leisure time. But he is a man with dreams as he lives out his motto, "Don't stop till you get enough."
Mikaela Maria is the daughter of Butch Taleon and the former Ditas de Luzuriaga. At sixteen, Myka is now on her 4th year at the Ateneo de Iloilo. When she is not busy with her studies, she loves watching TV, surfing the net, reading books, malling, and hanging out with friends. She wants to pursue a career in Medicine and become a successful Cardiologist someday.
She believes, "It is only with the heart that one can see rightly, what is essential is invisible to the eye."
Mishael Patrick is the son of Marie Antoinette Jalandoni-Tan and Keith Iver Tan. He is a 1st year college student at Iloilo Doctor's College. He is an active member of the Youth of Christ, an avid follower and climber of the Tribu Wall Climbing group, and regularly plays tennis.