I-TRAVEL
Dr. Vic Pido
The Fluvial Parade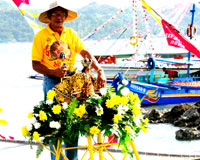 The Santo Nino from Cebu has been brought in the day before, for the fluvial parade, which ushers in the weekend of Kasadyahan and Dinagyang Festivities.
A fluvial parade is one of the religious highlights of Iloilo's Dinagyang Festival. This happens on the Friday before the Kasadyahan and the Dinagyang Ati tribe competitions take place. This year, it happened last January 22.
History tells us about the image of the Infant Jesus being brought to Iloilo City, Panay Island from Cebu by the Agustinian fathers. This is being reenacted during a fluvial parade which starts at Fort San Pedro. The group is led by the Hermana Mayor, tribe warriors and other devotees. They all ride the pumpboats. Upon reaching the port, they unload the Santo Nino image and start a parade towards San Jose Parish Church.
History of Sr. Sto. Niño of Cebu
From http://www.philippinecountry.com
Iloilo City's Dinagyang has its early beginnings in 1968, when a model of the image of Sr. Santo Nino was brought from Cebu City to the San Jose Parish Church by Fr. Suplicio Ebderes, OSA with a delegation of Cofradia del Sto. Nino, Cebu members. The image and party were enthusiastically welcomed at Iloilo City by then parish priest of San Jose Church, Fr. Ambrosio Galindez, OSA, then Mayor Renerio Ticao, and the devotees of the Sto. Nino in Iloilo City. The image was brought to San Jose Parish Church and preserved there up to this time, where a novena in His honor is held every Friday. The climax of the nine-day novena was the Fluvial Procession.
In the early morning light of dawn, the respected Santo Niño image is borne on a decorative banca in a fluvial procession, starting from the mouth of the Iloilo River at Fort San Pedro, winding all the way to the Iloilo Provincial Capitol which stands on the bank of the Iloilo River.