PURR
12 x 16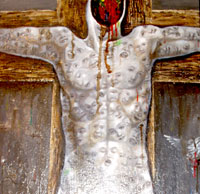 'El Nomini Patri' by Cezar Arro.
THE Red Steakhouse in Smallville Business Complex had been a favorite place for artists to showcase their works. The mezzanine of the said restaurant serves as a gallery and those who had been featured here already were Babak Niaraki, Norman Posecion, Quito Trenas, the Fine Arts Students of the University of San Agustin, recently some Ilonggo artists in an exhibit entitled "Koloryakot" as well as Bacoleno Charlie Co.
Last December, Red Steakhouse hosted "12 x 16" an exhibit that consisted of works sized 12 x 16 inches. The featured artists were Marisol Alquizar, Lester Amacio, PG Zoluaga, John Paul Castillo, Fundador Tan, Jzy Tilos, James Mark Salarda, Jeline Laporga, Cezar Arro and Leonel Cerbas.
The Red Gallery is open daily from 5 PM to 12 midnight. For more information, call 3213270.