Savor the Flavor at the SM Culinary Festival
Witness chefs from Iloilo's top culinary schools vie for the distinction of being the first SM Master Chef in a one of a kind cooking competition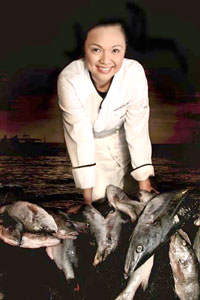 Pauline Banusing of Aldente Ristorante.
Chop, mix, stir and dice... a Festival of Flavors await shoppers and mall goers as SM City Iloilo and PPTI-Saladmaster launches the 1st SM Culinary Festival on July 20-26, 2009. Witness chefs from Iloilo's top culinary schools vie for the distinction of being the first SM Master Chef in a one of a kind cooking competition. Elimination rounds will be on July 20-21, 2009 with the top three schools battling it out in the Grand Finals on July 25, 2009. Also, various gastronomical activities are in store for the discerning food connoisseur during this week long event as culinary masters from Manila and Iloilo showcase their fabulous creations in a series of cooking demos. On July 22, 2009, Chef Miguel Cordova serves up his culinary creations of Ilonggo delicacies with a hint of Thai influence in a cooking show dubbed as Asian Fusion. At the same time, Chef Niño Logarta whips up his own versions of Classic Pinoy meals with a twist on July 23, 2009. Chef Emmerson Junn Lim of the Asian Institute of Culinary Arts, Inc. will offer everyone a Taste of Southeast Asia when he takes the stage on July 24, 2009 at 1 PM. On the same day, Chef Daniel Patterson, the Executive Chef of Hyatt Hotel and Casino, Manila invites everyone to experience the exotic taste of Indian cuisine as he showcases his cooking prowess for everyone. On July 26, 2009, the Culinary Festival will be highlighted with a Parade of Chefs, a special cooking demo by PPTI-Saladmaster, and a Celebrity Culinary Showdown between Jose Sarasola of Pinoy Fear Factor and Iloilo's very own Pauline Banusing.
According to Mr. Ben Jimena, Iloilo City Tourism Officer, "The SM Culinary Festival is a great boost to the local toursim industry since food is an attraction in itself and can make a tourists' visit more interesting and worthwhile. The partnership with SM City Iloilo has greatly enhanced the capacity of stakeholders in the tourism business to attract tourists to Iloilo City. I am looking forward to a highly successful Culinary Festival."
Special thanks to Department of Tourism VI, Iloilo City Tourism Office, SM Supermarket, ABS-CBN, Ajinamoto, Breakthrough Restaurant, Escas Garden Restaurant, Afrique's, Butot Balat Restaurant, Aldente Ristorante, Teds Old Timer Lapaz Batchoy, Mister Labada, Kasanag Well Being Center, Caltex, and Picture City.