Cezar Arro's Portraits: Intricate art that touches on individualities
While other people while away their frustrations, sorrows and problems through booze or drugs, Cezar exhausts all these on art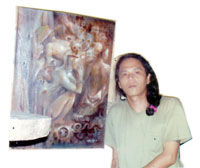 Cezar Arro.
Portraiture may seem to be a common approach to art, but one Ilonggo artist gives new meaning and new concept to such.
"I am akin to portraiture but the images that I paint are those that you can only see in your dreams. I do not go for ordinary subjects," said Cezar Arro, 33, full time visual artist of 12 years.
"The images that I paint show the different identities of people. I used to focus on negativism, but nowadays, I prefer to apply positivism in my artworks," he added.
It is for this reason that he calls his "portraits" as "for traits".
Just like any other visual artist, Cezar admits to undergoing through many sacrifices in his field. Ironically, it is also through his art that he expresses his frustrations. While other people while away their frustrations, sorrows and problems through booze or drugs, Cezar exhausts all these on art. "When I'm done with an artwork, I feel relieved. I feel better," he said.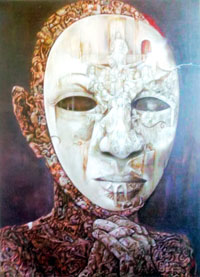 This full-time visual artist works four hours in the morning and four hours in the afternoon in his house in Maasin. That means, he spends most of his time on artworks. "With my appearance, many think that I am a man with so many vices, but I'm not. My only vice is my art. I'm addicted to my art," he said.
Apart from paintings, he also works on sculptures and mixed media. He recycles materials for his works.
Whatever works he finishes are sent to Manila for several exhibits. "Many art aficionados in Manila appreciate my work. That's why I'm always there for exhibits or to support my fellow artists there," he said. He has also traveled to Boracay and Puerto Princesa to show off his works. This coming October, he and fellow Ilonggo Artist "Hubo" will join some Manila artists in a group show in Manila.
Cezar believes that there are many young Ilonggo artists who have the potential of making it big. However, they lack exposure and one of the reasons for this is the lack of a gallery where their works can easily be accessed.
To be good in their craft and to win art competitions, Cezar offers several pieces of advice to young artists.
"Be determined. Be patient. Create your own ideas. Do not copy. Always remember that people are always looking for one-of-a-kind artworks. Thus, you have to think well and complete the concept in your mind before you start painting. Let your mind, heart and skills be reflected in your works," he added.
"You need to have a body of works to present to the public. This would entail several sacrifices. But don't worry, you'll reap the fruits of your labor someday," he added.
Cezar is a Visayas Regional Winner for the Philippine Arts Awards 2007 and a three-time finalist for the Metrobank Art Competition.