52nd Induction of Officers of Antique Medical Society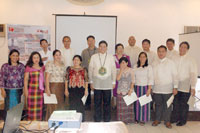 Congratulations to the newly elected officers of the Antique Medical Society!
No less than the president of the Philippine Medical Association Dr. Rey Melchor Santos was present to induct the officers. The induction was held last June 30 at Cindy's 2. The doctor/officers are President, Liza Huelar-Galilea; Vice President, Earl Autajay; Secretary, Ma. Mae Autajay; Treasurer, Marianne S.Malan; Asst. Secretary/Treasurer, Roy Quiatson; Auditor, Genevieve Alave; and PRO: Francisco Aquines Jr. The board of directors comprises Nelly H. Abiera, Melvin dela Serna, Jerry Molina, Ric Noel Naciongayo, and Melba Billones.
Recently the Antique Medical Society received the Icasiano Award 2nd Placer Category 5 as Most Most Active Component Society during the 102nd PMA Convention last May 22, 2009.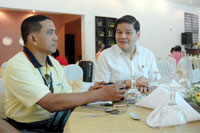 Noc Noc Naranjo with PMA Pres. Dr. Rey
Melchor Santos during the media
interview.
AMS has been very active in promoting their programs for Antique such as medical outreach, adopt a day care, adopt a Home, PPMD TBDC program, Indigency Clinic, Adopt a hospital, Public Awaress, Diabetic Clinic, Anti-smoking advocacy, Breastfeeding Advocacy, 3 programs undertaken with LGU San Jose and a lot more.
Dr. Galilea expressed her deepest thanks to all the officers and members of Antique Medical Society, BODs, past PMA governors, and Past AMS Presidents.
"Let us dedicate ourselves in maintaining a nobler and kind organization where Antiqueno doctors pool their talents and speak with one voice so that Antique Medical society will become a strong healthy organization that can speak for its colleagues. Let us continue to strengthen and increase the number of active members. Take more responsibilities. And today let us more than celebrate; rededicate ourselves to the idea of success. Remember "Together we can do more."