PURR
Dance for independence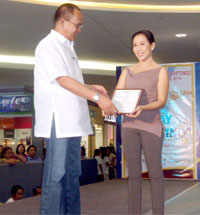 Department of Tourism Regional Director
Edwin Trompeta and Annie
Divinagracia Sartorio
Dance is a vital part of everyday living. Even in ancient times, worship and celebrations were manifested through dancing. Birth, coming-of-age, courtship, marriage, conflicts and even death, had dance as a component.
Thus, it is but fitting to celebrate the Philippine Independence through a series of dance presentations. One of them is the ballet rendition of Philippine folk dances by the Annie Divinagracia Sartorio School of Performing Arts and the USA Kawilihan Dance Troupe at SM City Iloilo. The fluid and graceful movements of the dancers trained under Annie Divinagracia Sartorio were witnessed in a cultural showcase of dance and music in the likes of Iloilo Ang Banwa Ko, La Jota San Joaquina, Paseo de Iloilo, Aray, La Jota de Paragua, pop medley, Maglalatik, Itik-Itik, Binoyugan, Karatong, and many more.
Well, it was a great presentation indeed. It was successful in its aim of preserving our traditional dances.