PINK PEPPER
Uniforms for Guimaras' pumpboat crews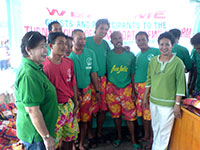 Ofelia Canja and Charie Galia with the
crew from Jordan.
The Provincial Economic Office – Tourism section turned over uniforms to the pump boat crews of Jordan and Buenavista, Guimaras last June 25.
Then, the provincial government of Guimaras allocated P126,000 for their official uniform. The pumpboat crews are considered front liners in tourism. Thus, having a uniform for identification is important. Their floral shorts spell comfort and are easy to dry.
"Our governor Nene Nava (Felipe Nava) is looking after your needs as well as the tourism industry. The sector under Angie Gabinete is working on a proposal for your budget," Charie Galia said.
"The shorts will be provided to the pump boat crews while the association will provide the shirt," she added.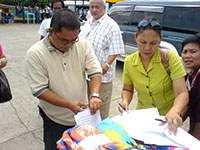 The signing of memorandum by Mayor
Gumarin of Buenavista while Governor
Felipe Nava looks on.
In Jordan , around 51 while in Buenavista, there were 46 who availed of the free uniforms.
The turnover was attended by Governor Felipe Hilan Nava, Mayor Samuel Gumarin of Buenavista, Charie Galia, Angie Gabinete and Ofelia Canja, chairperson of the Motor Banka Association of Jordan.
Charie Galia said that the crews are now accredited workers for the Guimaras-Iloilo-Guimaras route.