TWILIGHT
Shuffle and Deal in Bacolod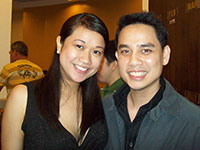 It's a shuffle and deal for Metro Card
Club Bacolod operators, couple Joey and
Cristine Agustin.
Sorrento Bacolod was the venue of personas in Metro Bacolod circle when the Metro Card Club Bacolod opened its doors to those who love to play poker in town.
Yes, the rains did not stop Your Twilighter from driving into the new venue where we met Vice-Mayor Sayson, program producer Radji Caram, Standard Insurance Bacolod boss Ariston Minez Jr, businessman Steve Yap, Gerard Tupas, Rudy Tinsay and Boni Advincula, to name a few.
Mayor Bing Leonardia arrived at the affair to greet the investors and those present. Metro Card Club Bacolod operator Joey and Cristine Agustin welcomed their guests. Ace Technologies President Nick Galan also gave his welcome words.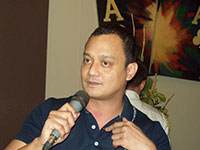 Ace Technologies President Nick Galan
explains to the guests and players the
game.
Congratulations to Joey and Cristine – Let's Shuffle and Deal!