PURR
Miss Silka Iloilo 2009 Talent Presentation today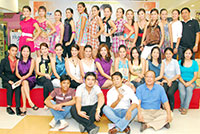 THE MISS SILKA ILOILO 2009 candidates
and Cosmetique Asia.
The candidates for Miss Silka Iloilo 2009 will showcase their varied talents today, 3 PM at Robinsons Place Iloilo. This is the second time that the candidates will be presented to the public. The first was last June 20,2009 at the Amigo Plaza Mall, where the 18 ladies were featured in a fashion show, wearing the collections of 2-UP, Shoebox, Aleana, Fashion Boulevard, Mix and Match, Defined Clothing and Accessories and Amania, all tenants of Amigo Plaza Mall. The show's director was Bombette Marin.
The winner of Miss Silka Iloilo 2009 will compete in the national finals, Miss Silka 2009 in Manila. But before that, she has yet to compete in today's talent phase, then on July 10, 7 PM, for the swimsuit competition at El Dorado Waterpark, Smallvile and the finals on July 25, 7 PM at the West Visayas State University Cultural Center. Miss Silka 2009 will have the honor of endorsing Silka products.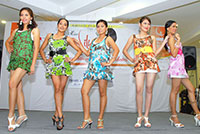 Darme Grace Gevela, Gladys Pasol,
Michelle Guanco, Ann Rency Custodio
and Angelie Golingay.
Miss Silka Iloilo 2000 is produced for Cosmetique Asia (maker of Silka products) by TMX Travel and Marketing Experts, that carries the slogan, "We do it better. We deliver."