Bento Bento better than Buffet
At Maki Japanese Restaurant and Sushi Bar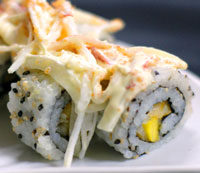 New York Maki.
Maki menu features the finest Japanese dishes, both traditional and contemporary, including a wonderful selection of appetizers, sushi, teriyaki and more. Their chefs will delight you by preparing savory appetizers and entrees right in front of you. Here you will be pampered by their gracious servers. They go beyond boasting delicious, authentic Japanese cuisine by providing a feast for all your senses.
Only the freshest ingredients are used in the different sushi and sashimi offerings at Maki. Japanese food need not be expensive and this is what Maki offers.
Be delighted by the BENTO BENTO Better than Buffet Promo which can be availed daily, lunch and dinner. Eat all the freshest sushi and sashimi, prepared upon ordering for only Php225. Bento Bento is not only for sushi and sashimi lovers but for teriyaki addicts and tempura aficionados. You get more than what you pay for at Maki.
For the month of July, for every five persons availing of the BENTO BENTO Better than Buffet Promo, one eats for free.
For reservations, call 321-3885.