PURR
The Robinsons Design Lab 3rd Run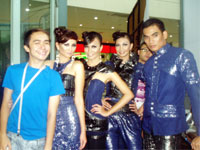 Tee John Clement and his models.
Tee John Clement won over Mike Sorilla, Jennifer Salazar and Reche Segura during the Robinsons Design Lab 3rd Run finals.
Clement derived his inspiration from gifts. "As I was walking around this bookstore, I found myself standing in front of the gift wrapping station. I said, why not make this as an inspiration? It started from there. Then, I had this idea of treating the clothes as gifts and unwrapping them to create a whole new outfit," he said.
Patty Eustaquio, one of the judges, said "You have a gift of surprise. You chose the right fabric that fits your collection. It's very modern."
Darren Chang, another judge, said she likes the texture and contrast to the shine of the fabric that Clement used. She had one lament though, one of the pieces had too much buttons.
Nevertheless, Clement received so much praise for his collection. Rajo Laurel was quite impressed with his designs' level of sophistication. "I like the element of transformation. I am impressed. You are ready for Manila," he said, causing Clement to be teary-eyed. Coming from a seasoned designer like Rajo Laurel, who wouldn't?
Anyway, Purr learned one important fashion advice from Rajo: Step back and look at what you have made and see in which areas you can make some changes.