PURR
Puey Quinones beckons
One of RP's most prolific young designers to stage a fashion show in Iloilo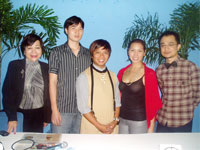 Arlette Ledesma, Allan Tan, Puey
Quinones, Carmina Sanchez and
Melvin Mojica.
Samar-born Puey Quinones has gradually made his mark in the Manila fashion scene since 1998. Through his first show entitled "Swell," Puey's approach to fashion was well-accepted. His work ethics and his reputation as a serious designer also made this possible. His clients include Ting Ting Cojuangco, Tim Yap, Irene Marcos-Araneta, Imee Marcos, KC Concepcion, Boy Abunda and Kris Aquino.
The first time that Puey came to Iloilo was when he participated in a young designers' group show last year. Wearing an avant garde design, a friendly personality and presenting a maximalist approach to fashion, Puey endeared himself to the Ilonggo fashionista crowd.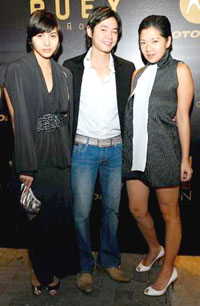 Puey's second visit was a press conference promoting his upcoming fashion show on July 30 and 31 at Hotel del Rio.
It was learned that Puey's fashion is being shared to some marginalized individuals in society. As a volunteer for the Lamb of God Foundation, he goes to the Bilibid Prison once a week and teaches 40 inmates about fashion, arts and design. He has been doing this for two years. The inmates learn about hand painting, textures, beading, pattern making and sewing, among others. The hand paintings on Puey's collections are actually made by these inmates.
Allan Tan, owner of Hotel del Rio, said that they had been thinking of a charity event and meeting Puey was timely. His collection for the July show will feature the hand painted designs of the inmates as well as what he calls the "transformers" or his signature gowns that can be worn in many ways. His models will be Iloilo City's society icons, his favorite model Ria Bolivar, three Manila and a few local models.
Tickets for the show are available at Hotel del Rio. By supporting this endeavor, you will provide opportunities for more inmates to study about fashion, which is one of their livelihood projects.