The Gumabong-Haro reunion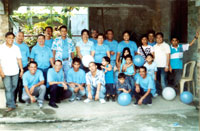 Gumabong, Haro, Divinagraci and
Magante clan.
It was quite historic for the Gumabong-Haro clan, including the Divinagracia and Magante families, when they gathered.
In the early 1920's, the calesa or caromata was a luxurious transportation for Ilonggos. The affluent families of Iloilo City rode in calesa-driven by horses brought by the Americans to the Philippines after the defeat of the Spanish Armada at Manila Bay in 1898.
Teroy Gumabong pioneered the calesa business in Iloilo City and the suburbs. It was known then as the Gumabong Stable. Emilio C. Gumabong, Sr., was the stable caretaker but not long after, Emilio put up his own six-unite calesa service with stable located in Hipodormo, Jalandoni Street, Iloilo City. The Gumabong calesa was patronized by the Lopez-Ledesma families in Jaro.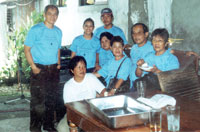 Snook Divinagracia, Joy Haro, Dampling
Divinagracia, Emilia Gumabong and the
Magante family.
Severino M. Haro was well-loved Presidente of Oton, Iloilo. His wife, Estopia Gumabong was a seasoned church organist. Severino Haro was Presidente of Oton from 1925-1928 when he met his untimely death in Barrio Bita, Oton. Nenita Haro Sumba, US Veterans pensioner and ex-San Miguel Councilor Benjamin Haro Simba Jr., are well known patriarchs of the Gumabong-Haro clan.
Casimira G. Divinagracia and Carlota G. Magante revolutionized in the 1930's the Calubihan and Ta-al barangays' native delicacies like bibingka, kotsinta, suman, ebos and native evening favorites like pata, linaga, pancit molo, sotanghon, bindung-go, etc. Casimira or Tiya Mirang, produced children like Paking, a famous athletics coach in Bacolod City; Samson, a well-loved UP Iloilo professor and Leontina Casipe, ICNHS English teacher, American Thomasite mentor.