PURR
Young magicians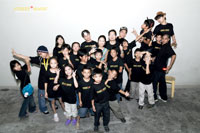 Children and teens doing magic tricks is an awesome sight. That would make you think that for us adults who want to learn magic, there's still hope.
Last summer, the Philippine Brotherhood of Magicians, led by its president, Mark Java held a magic workshop for the youth. During their graduation ceremony, the students were asked to show what they learned. Prof. James Narvaez, premier magician of all time, also performed.
The graduates were JM Acuña, Justin Banusing, Adrianne Martha Barrientos, Lorenzo Vincent Borres, Jericho Camposagrado, Boom Boom Corteza, Ric Lim Coo, Kevin Mari Francis Cruz, allen Gerard Daguay, Aira Faye Dalisay, Pebbles Ferrer, Janna Marie Go, Kylie Jeanne Go, Nina Beatris Gonzalez, Henry Hedriana, Neale Heinrick Humpay, Krizjireh Cezar Inquit, Jon Tristan Jeruta, Sheiva Lyn Kong, Cez John Benedict Lanada, Marc Joseph Lesaca, James lee Masilongan, Kaiji Mediana, Wellken Minerva, Jade Danly Nortates, Jetrho Nepomuceno, John Dexter Palma, Jimmy Querubin Jr., Rajah Rodriguez, Noel Danielle Rojo and Mae Tuson.