Extraordinary music and the Maasin Tultugan Ensemble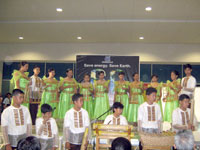 The Maasin Bamboo Ensmble plays in
Davao.
An extraordinary music from the world's tallest grass.
Maasin is known for being the bamboo capital of the Philippines. This municipality in central Iloilo is rich in cultural heritage and famous for their products made of bamboo.
One very concrete reason why we should be proud of Maasin is the Maasin Tultugan ensemble—a group of young individuals searched for their talents and honed to produce a one of a kind music through bamboo.
Gifted with skills, the Maasin Tultugan ensemble was founded by Maasin Mayor Mariano Malones Jr.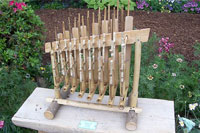 The angklung.
"We've gathered young and talented students for an audition. Then, we chose 20 to 30 members who were trained in playing bamboo instruments," Mayor Malones said.
As far as their instruments are concerned, one common is the tulugan or tultug which they often use in Tultugan Festival. Tultugan is an instrument equivalent to drums. This indigenous bamboo instrument has been found used centuries ago by our natives for communication. The instrument is played by striking the body of the bamboo with a stick to produce a rhythmic pattern. While drums are loud and upbeat, tultugan is pleasing and close to nature.
Another is the gabbang. It is a xylophone with more or less 12 bamboo keys separated by nails. The resonating case is decorated with tribal designs. This bamboo instrument is played by striking the keys with a beater made of wood and rubber. The amazing thing about gabbang is, it could somehow sound like a lyre or xylophone even the keys are made of bamboo. Cool!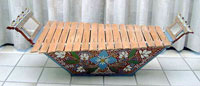 Gabbang.
But a catching flaunt of their bamboo instrument is the angklung. Angklung is made of two bamboo tubes attached in a frame also made of bamboo. These tubes are carved to create an echoing pitch. Angklung is played by holding the frame with one hand while the other hand shakes it from side to side repeatedly. Its sound is composed of rapid repeating notes that are really amusing.
Other unique instruments the ensemble is using are paspas, rain stick, tala-tala, bamboo flutes and many more.
The Maasin Tultugan Ensemble proves that bamboo as a grass could be used in many ways. And to that, the ensemble promotes the use of bamboo as an instrument.
Surely, the ensemble is carving their niche in the culture and history of Maasin. The group proves the ingenuity, creativity and resourcefulness of the Ilonggos.
The Maasin Tultugan Ensemble is trained by Rosemarie Bayag and Wilhem Puljanan.
Music is passion. We must wonder how passionate the Maasin Tultugan Ensemble is.