The rush: Nicole, Denise and Migo share their love for longboarding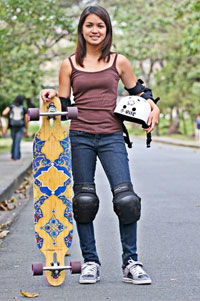 Nicole Wuthrich.
A young lady, dressed in complete gear – a helmet, knee and elbow pads and a leather suit, kneels on top of a cruiser and moves in high speed along a highway.
She is one of the sights in several Luzon highways during nighttime ever since longboarding became a fad last year.
A longboard is like a skateboard, but it's longer and wider. It's used for cruising, downhill racing, slalom racing or transportation. Longboarding is like wavesurfing but on concrete.
This sport became popular in the 1950s in California but was embraced by Filipino youths only last year.
Nicole Wuthrich, a young and athletic medical student who hails from Iloilo City, is one of these enthusiasts. Along with her friends Migo Daz and Denise Castillo, she cruises the highways of Manila, Cebu, Bacolod, Dumaguete and Subic in order to get that adrenaline rush.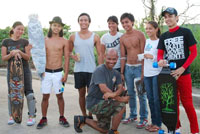 The Whiskey Hill 4 Downhill
Competition winners.
Migo is a Public Administration student of the University of the Philippines in Diliman while Denise is a graphics animator and the owner of Skate of the Nation shop, seller of longboards and skates.
Outreach
The trio uses longboarding to do outreach programs. In Bacolod, they visited the Boys Town where they held a skating demo and had a film showing about the environment. "We're not just skating. We also tie up the sports with environmental concerns," said Nicole.
In Cebu, they participated in The Sunday Mass: 30 KM Longboard Push Race for Clean Air. "It was an Earth Day skate for a cause. This was organized by Free Energy Cooperative," Nicole said. She finished second. Denise finished first for the female division while Migo finished 5th in the male division.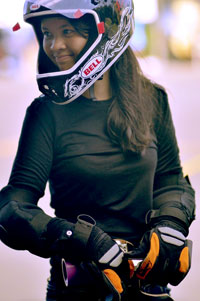 Denise Castillo.
"It was a fun experience knowing that it is possible for us to use skateboard as a mode of transportation with no use of gasoline. Thus, pollution would be non-existent for this matter," Nicole said.
Last April 22, they gathered with other longboarders in Bonifacio High Street, Taguig to celebrate Earth Day by skating for the whole night.
On May 1, they joined the Whiskey Hill 4 Downhill Competition in Colinas Verdes Bulacan. Nicole finished first and Denise, third in the women's division, while Migo finished third in the men's division.
As of this writing, the trio is probably in its high in the Subic Gravity Games, another gathering of longboarders.
Practice
Last summer, they were practicing every night. "We do this late at night so that there won't be any cars on the road. We can't cruise on the side street. We have to do it on the highway," Migo said. Their favorite spots are Matahimik Street in Sikatuna Village, La Vista in Katipunan and The Fort.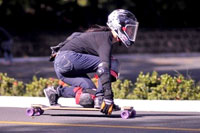 Denise Castillo's form.
Nicole started with tricks and freestyle and later ventured to downhill. "I like downhill because of the speed and the thrill. There's adrenaline rush especially when I complete the hill safely," she said.
Migo started longboarding in June 2008, doing freestyle at first, and then, downhill.
Denise learned to cruise around her village. She practiced a lot of sliding, and then later got into downhill.
"Longboarding gives me the rush. Plus the fact that it has brought us to different places – bigger hills and better pavements," Denise said.
Safety
Longboarding has its dangers, but these lovers of extreme sports say that they observe safety measures. When on the sport, they wear a full force helmet, knee pads, elbow pads, slide gloves, back protector and leathers (speed suit).
Longboarding has yet to become popular in Iloilo City. But to those who are interested to get into the sport, the trio suggests on getting a good board. Some good brands are Fluid Surf Longboard and Driftwood, they said. "Manila has good sources of longboards. There's the Five Forty Surf Shop, the Skate of the Nation, Whiskey Hill Online and Bump Proof Shop. You can check out their sites in the Internet," said Nicole.
"Longboard is for everybody. We have enthusiasts who are in their 40's and 60's. It's for the young and old," Nicole said.
"Have fun and be safe," is the trio's parting shot.