Roxas City Integrated Lions Club at Balay Dayonan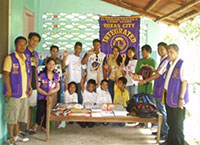 Lions with deaf-mute beneficiaries of
'Balay Dayonan'.
The Roxas City Integrated Lions Club, member of the international association of Lions Clubs, recently gave school supplies and rehabilitated the 'Balay Dayonan' of the deaf and mute children who are under the care of the Deaf Ministry of the Archdiocese of Capiz. 'Balay Dayonan' is located in Brgy. Lawa-an, Roxas City.
The repair of the building of "Balay Dayonan' is to ensure that the children will have a well-built, secured, and decent place to live in. The Lions repaired the roofs and walls and painted the building.
Under the leadership of its president, Lion Michael L. Contreras, the civic club also donated to 'Balay Dayonan" a television set, chess boards, table tennis rackets and accessories, sets of scrabbles game, and wooden beds, among others.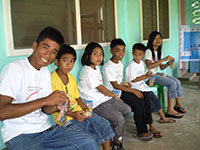 Happy and grateful faces.
There are 10 deaf and mute beneficiaries who are studying in Roxas City Special Education School at President Manuel Roxas School (PMRS) in Brgy. Tanque, Roxas City.
Thanks to the Lions, the young members of our society who have special needs are being helped. Through the Lions' aid, the recipients will be able to attend school, to work and later to live independently and to reach their full potentials.
It is not easy to maintain regular club projects and support a larger cause but Roxas City Integrated Lions Club shines through by the extra time and effort that the members put in to ensure that the club meets its goals.