Learn and Play: Our Lady of Montserrat Toddler Play School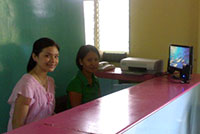 OLM staff Sarah Rose Jardeleza and
Cely Palmes.
"The task of the educator of young children lies in seeing that the child does not confound good with immobility and evil with activity." –Maria Montessori (Italian Educator and Doctor)
A young mind, they say, is like a sponge. It doesn't tire from absorbing and reeling in information. Whatever the little ones sees, they would mimic. This is the start of learning. During this stage, toddlers begin to explore and discover more than baby rattles and bedtime lullabies. Our Lady of Montserrat Toddler Play School (OLM) understands how important these first few steps of the child's growth ladder.
With a child-friendly atmosphere, OLM offers a venue where the toddlers are free to unleash their potentials and further their imagination. Fully air-conditioned classrooms enhanced with attractive rubber mats and eye-catching cartoon designed walls gives the little ones the idea that learning and play can indeed co-exist. OLM also has a well-equipped AV room where video learning materials can be seen at widescreen, a large front yard playground and biometrics system for the children's security.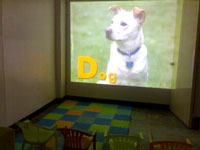 The AV Room
Activities to enrich the toddler's motor skills and creativity are enforced by the up to date learning materials from the US. Lots of educational toys and books await the toddler for a journey through imagination and beyond. The instructors with an ample background on the teaching and care of the toddlers, assures parents and primary caregivers alike of capable service. OLM keeps a 1:5 teacher-student ratio to efficiently cater the toddler's needs.
OLM believes more of the learning is done at home, thus orientations to the primary caregivers of the students regarding the topics learned in the classroom is being given. This is to support the continued learning of the toddler outside the four walls of the school.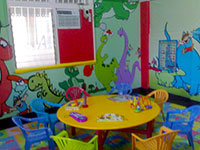 The classroom
Two BS Psychology graduates, Aimee and Byron, run the toddler play school equipped with their knowledge on child growth and development. As parents themselves who experienced child-rearing amidst their professional careers, they saw the concern of wondering how to give the needed care and guidance to the toddlers while handling pressures at work. OLM emerged to be the reassurance.
Our Lady of Montserrat Toddler Play School still accepts enrollees. Visit them at Rosas St. Phase 3 Gran Plains Subdivision, Jaro, Iloilo City. For inquiries, contact Aimee at 0927-4175007; Byron at 0917-8208030; landline numbers: 320-5693 and 301-0653; or email at olm.playschool@yahoo.com